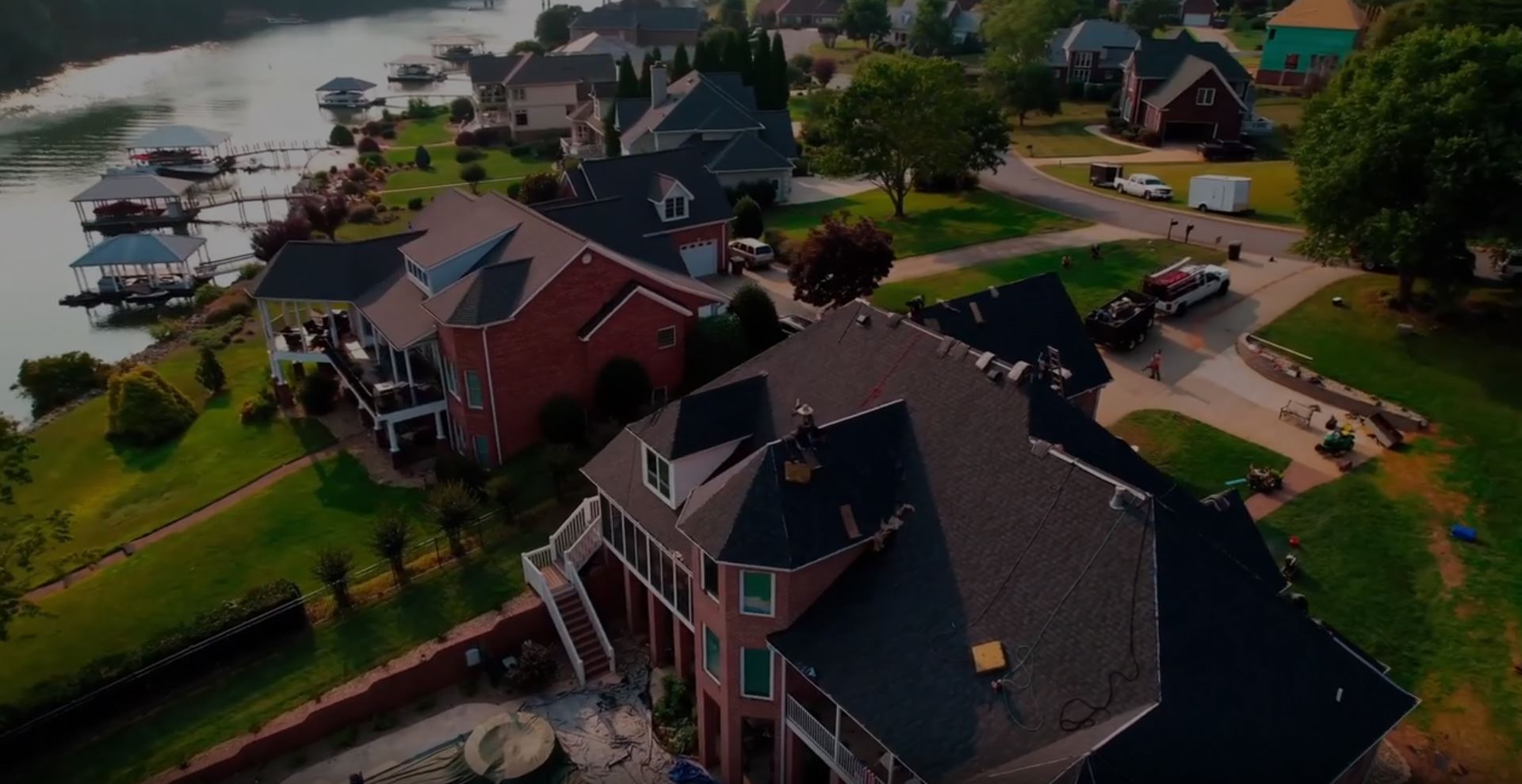 The video starts with an overhead drone shot of a home with a team of roofer working on a new roof. The drone then pulls away to show a large home on Lake Norman in North Carolina. The video continues to show different angles of the home while a new shingle roof is being installed by the team at Philco Roofing.
Philco Roofing & Remodeling
Your premier local Contractor
Serving Mooresville, NC and the Lake Norman Area Since 2009
Hear From Customers in Your Neighborhood!
"Great work, start to finish!"

Finally, a contractor that shows up when they say they will and follows through with what they say they will do. They did great work from start to finish. Will use them again.

- Jim M.

"Reasonable quote!"

After a tree fell on my roof, Phil was there the next morning giving me a very reasonable quote. He works with my insurance company and a week or so later the roof and gutters were finished. Great job great cleanup. Thanks, Phil and crew.

- Matthew B.

"Done quickly and done well!"

This is the second time I've used Philco. The first was for a roof replacement and then again after tree damage. Satisfied with both experiences. Job done quickly and well with no evidence of debris left behind.

- Kiersten S.

"Highly recommended"

I highly recommend Philco Roofing and Remodeling. The owner, Philip, was engaged from beginning to end in developing the estimate, choosing roof colors, the installation, and a final inspection.

- Phil M.

"Highly recommend!"

Phil and crew helped me out on a couple of my investment properties, including a complete tear-off and replacement, they did a great job. Phil is very responsive and his pricing is competitive, highly recommended!

- Christopher C.
Roofers in Mooresville, NC
Hiring a professional Mooresville roofing company can be the difference between having a roof that stands the test of time and a roof that doesn't last. Finding a roofer with the skills and experience in this can be challenging, but, you don't have to look further than Philco Roofing & Remodeling.
With decades of dedicated service in the roofing and remodeling industry, Philco Roofing & Remodeling has earned a reputation as a trusted and reliable partner for residents and businesses in Mooresville and the Lake Norman area. Our company is renowned for our commitment to quality, excellence, and customer satisfaction.
From roof replacement and repair to remodeling and inspections, we are here to meet all your roofing needs.
To request a quote, contact us at (704) 389-5051. We also serve businesses and realtors in Mooresville, Lake Norman, and the surrounding areas.
Comprehensive Roofing Services for Mooresville Homes & Businesses
Whether you need a quick repair, a complete installation, or regular maintenance, Philco Roofing & Remodeling has you covered. We make sure that our services are always delivered effectively and efficiently to homeowners and businesses.
Some of the services you can expect to enjoy can be seen below:
No matter the roofing issue, our skilled team is here for you. Your satisfaction is our priority, and we commit to responding to your inquiries within 24 hours for prompt and efficient service.
Ownership that Prioritizes Your Satisfaction
As our proud owner, Phillip Gilmore brings over 27 years of invaluable experience to the table. Phillip founded Philco Roofing & Remodeling with a mission—to provide genuine assistance and deliver top-notch work and services. In an industry with mixed customer experiences, we stand as a beacon of honesty and integrity. Earning your trust and your satisfaction is our foremost priority.
Locally Owned & Operated

Being local means our team is always ready to provide timely assistance, ensuring your roofing projects progress smoothly and efficiently.

Offering Free Estimates

By reaching out to our team, not only will we provide a free estimate, but you'll gain insight into the possibilities for your home.

Committed to Building Trust

We offer warranties on both our materials and workmanship, providing you with peace of mind that you're in the hands of professionals.

Customer-Centric Approach

We've seen firsthand how important it is for our customers to have a positive experience. We provide personalized service to fit your home and budget.
HAAG Certified Excellence
HAAG is a globally recognized authority in the field of residential and commercial roofing inspections. Achieving HAAG certification involves rigorous training and testing, ensuring that a technician possesses the highest level of knowledge and proficiency in assessing roof damage. At Philco Roofing & Remodeling, we make sure to always provide our customers with 5-star service, and our HAAG certification is a testament to our dedication to providing excellence.
When you choose a HAAG-certified contractor, you're choosing a professional who meets one of the industry's highest standards. This certification not only showcases our technical proficiency but also our commitment to staying at the forefront of industry advancements. With Philco Roofing & Remodeling, you can trust that your roofing needs are in the hands of professionals who understand the intricacies of roof damage assessment and repair.
Recognized Excellence
Philco Roofing & Remodeling is also a proud member of the CertainTeed SELECT ShingleMaster™ contractor program. This recognition is a testament to our unwavering dedication to using the highest quality materials and delivering exceptional workmanship. This designation is restricted to only the finest contractors, including those who have demonstrated responsible business practices and who employ a team of MSA-qualified shingle installers.
Our accolades extend to being voted the "2023 Nextdoor Favorite Roofer," a testament to the trust and confidence our local community places in our services. This honor is particularly special to us as it reflects the relationships we've built and the satisfaction we've garnered from those we've had the privilege to serve.
Unmatched Warranty Protection
We stand behind the quality of our work. Our certifications and affiliations allow us to offer a 50-year manufacturer warranty, providing you with peace of mind that your investment is protected for the long haul. In addition, our commitment to excellence is evident in our 10-year workmanship warranty, showcasing our confidence in the durability and reliability of our roofing solutions.
Contact Us Today
Contact us today for all your roofing needs. From repairs and installations to inspections and maintenance, we are your one-stop solution for top-notch roofing services in Mooresville and the Lake Norman area.
Call us at (704) 389-5051 to talk to our team and book a service.